March 2 was Read Across America. I celebrated with two classrooms via Skype. Here I am reading and chatting with K- 2nd grade students at Avalon Elementary in St. Clair Shores, Michigan (near Detroit).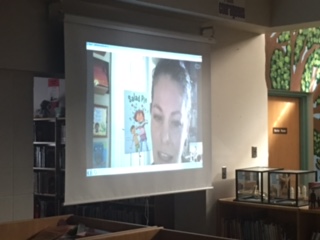 The students had some great questions at the end of the reading, such as "Will Herbert and Maggie stay friends?" and "Is Herbert always there to catch her?"
Thank you, Mrs. Decker for sending along the photos of the students and Skype session. Avalon Elementary has reading activities and challenges planned all March long, and Mrs. Decker is going to raffle off a copy of SALAD PIE for one Avalon reader at the culmination of the reading celebration.
I also read and answered questions with Mrs. Maldonado's 1st grade class in Lorena, Texas.
(I Skyped with Mrs. Maldonado's class last year, too) We read SALAD PIE, and I told them all about my favourite Dr. Seuss book, MARVIN K. MOONEY WILL YOU PLEASE GO NOW! They had some great questions that really made me think. I could tell they did some research on me before I talked with them. Thank you, Mrs. Madonado!